Electric Bike Rentals in Santa Barbara
An easy electric bike rental for all levels!
Up to 20mph! Best way to see the whole city in 1 Day!
Note: You'll be able to select which E-Bike you'd like to rent on the second page of the booking process
Inventory Available: EBike fleet can accommodate up to groups of 30
No sand riding allowed. If you wish to ride on the sand check out our beach ebike tour!
All of our electric bikes come with a helmet and lock free of charge. E-Mountain Bikes do not come with a lock.
If you're interested in a basket, pannier bags, or a charger please specify your request in the additional notes section of our online booking process. Baskets and pannier bags are based on availability and are on a first come first serve basis.
Trek's Electra Townie Go
A beach cruiser ebike built for comfort and a smooth long ride.
This is our most popular electric bike rental in our fleet. If your priority is comfort and range this is the ebike for you. Designed by Trek's Electra brand this bike takes the classic beach cruiser Townie style and gives it a boost that'll put a smile on your face. These bikes are fully pedal assist with an 8-Speed internal hub. Most ladies bikes come with baskets as well!
Models: Townie Go 5i, Townie Go 7D, Townie Go Path.
Sizes: Adult Universal (Ladies & Men's Geometry available)
Fit: Most People 5' - 6'4
Motor: Bosch Active Line or Performance Line 250W mid-frame. Other models include rear-drive motors for a lighter build.
Battery: 11ah / 400wh / 36 volt
Top Speed: 20 MPH
Motor Style: 4 Levels of Pedal Assist
Range: 30-100 miles depending on terrain and usage.
Rad Power Electric Bikes
We carry the nation's most popular ebike brand; Seattle's Rad Power Bikes. These ebikes are known for their durability and acceleration.

Models:
Rad Rover (4" fat tire ebike)
Rad City (versatile commuter, fits as low as 4'9)
Rad Runner (20" wheels and single speed)
Rad Runner Plus (20" wheels and rear cushion)
Rad Wagon (long cargo ebike with rear bench)
Features:
Sizes: Adult Universal (varies by model)
Fit: Most People 4'9 - 6'4
Motor: Bafang 750 W geared hub motor
Battery: 672 Wh / 48V / 14Ah
Top Speed: 20 MPH
Motor Style: 4-5 Levels of Pedal Assist & Twist Throttle!
Range: 25-45 miles depending on terrain and usage.
Rad Rover
This electric fat tire bike comes equipped with 5 levels of pedal assist and a throttle for when you need a break from pedaling. This e-bike from Seattle's Rad Power Bikes comes with a powerful 750W hub motor for fast acceleration. It also comes with front suspension and 4" fat tires for enjoying off-road trails in Santa Barbara.
Rad Trike
The Rad Trike is a 3-wheeled E-Bike options for adults or anyone 4'10'' and taller. It offers more stability than a two-wheeled bike. This Trike is built to maneuverability and convenience with smaller 18'' wheels and a reverse button for backing up. Confidence-inspiring and comfortable!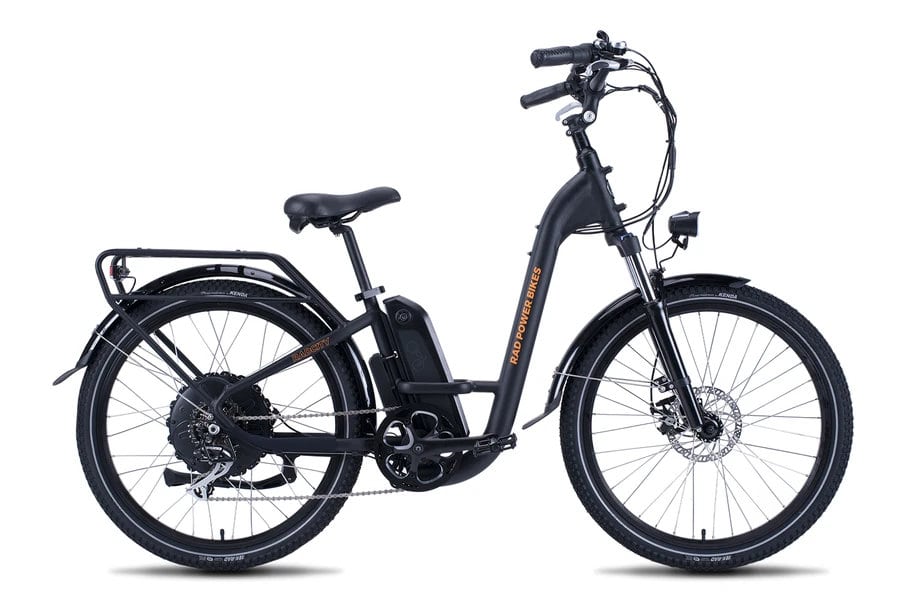 Rad City
The City is the perfect urban commuter for riders of any size. The City ebike comes outfitted with larger (taller) and thinner cruiser style tires and a cruiser style handelbar. This allows for a stable and smooth bike ride.
Rad Runner & Rad Runner Plus
The Runner is a single-speed low center of gravity ebike with 20" wheels. The Runner Plus is the same bike but comes with 8 speeds, front fork, fenders, light, pegs, and rear cushion for a little rider on the back.
Rad Wagon
For riders looking to load up the kids or pack extra gear. The rear rack can hold one kids seat or cushions and safety bars for 2 kids.
Rad Power Bike with Kids Seat!
Hoping to ride an ebike with a 1-3 year old little one? We offer a kids seat upgrade for our Rad Power bike rentals! Kids seats are only $10 per day. After you select your rental dates and number of bikes you'll be able to add a kids seat to your reservation on the second page of checkout. The weight limit on our Yepp and Thule kids seats is 40 lbs.
Aventon Electric Bikes
The newest members of our electric bike fleet come in as our fastest ebikes boasting a lot of torque and a thumb throttle.

Aventon Level. Fits 4'11 - 6'4
The Level is your ready for anything electric bike. This city style comfort bike comes with a front fork, thumb throttle, and launches you over the bike lanes at a blazing 28 mph!
Front Suspension fork. Step Through Frame. 8 speed.
Motor: 750W (Peak) 500W (Sustained), 48V Brushless Rear Hub Motor
Battery: Internal Lithium-ion 48V, 14Ah (672Wh)
Top Speed: 28mph
Distance: 25-45 Mile Average
Aventon Soltera. Fits 5'4 - 6'8
The Soltera is our sleekest electric bike built in the style of a hybrid bike. The geometry of this city-ripper sets the rider over the flat handlebars to assist the rider in aerodynamics and overall speed. This bike is light, fast, and a ton of fun.
Lightweight. 7 speed.
Motor: 350W
Battery: Lithium-Ion 36V, 9.6Ah with LG cells
Top Speed: 20mph
Distance: 25-45 Mile Average
Premium Electric Bike Rentals
Specialized Turbo Como & Vado
An urban ebike boasting a light and sporty build with power and range.
The como electric bike from Specialized is the sleeker, sportier, and lighter of our two city ebikes. It won't have as many levels of pedal assist or quite the range of the TownieGo but it makes up for it in acceleration and control. This electric bike rental comes with super strong disc brakes, 9 speeds, and an app that lets you track your riding statistics! (only offered for long terms rentals)
Models: Tubo Como 3.0, Turbo Como 4.0, Turbo Vado SL
Turbo Como Sizes: Small, M/L, Large, XL
Turbo Vado Sizes: Large, XL
Fit: Most People 5' - 6'4
Motor: Specialized 1.2 250W in-frame / mid-drive
Battery: Specialized U1-460 Wh
Top Speed: 20 MPH (Turbo Como)                  28MPH (Turbo Vado)
Motor Style: 4 Levels of Pedal Assist
Range: 20-60 miles depending on terrain and usage.
Note: You'll be able to select which E-Bike you'd like to rent on the second page of the booking process
Electric Mountain Bike Rentals
Required for Rental: Photo ID, License Plate Number, $3,000 credit card authorization hold.
Specialized Turbo Levo SL
Sizes: 2021 Large

Motor: 240W Peak
Battery: 360wh
Weight: 42 lbs
Speed: 20 MPH - Pedal Assist
Range: 30-70 miles depending on terrain and usage.
Wheel size: 29 in.
Trek Rail 5
Sizes: 2020 Medium & Large
Motor: 250W Bosch Performance CX
Battery: 500wh
Weight: 52 lbs
Speed: 20 MPH - Pedal Assist
Range: 20-100 miles depending on terrain and usage.
Wheel Size: 29 in.
Specialized Turbo Levo Alloy
Sizes: 2022 (S2) fits 5'2 - 5'8 and (S4) - fits 5'8 - 6'2
Motor: Specialized Turbo Full Power System 2.2 Motor
Battery: 500wh
Weight: 53 lbs
Speed: 20 MPH - Pedal Assist
Range: 20-70 miles depending on terrain and usage.
Wheel Size: 29'' front, 27.5'' back
These electric pedal assist mountain bikes give you the power to ride more trails or keep up with your friends who like to fly. The Specialized Turbo Levo SL sports a slimmed down battery and compact motor in order to provide a natural mountain biking feel to your ride. The lightweight set-up of this bike provides riders with the confidence to tackle turns and play on jumps and berms. This is the perfect bike for avid mountain bikers looking to boost their Santa Barbara mountain bike rides. The Trek Rail 5 holds a larger battery and a Bosch Performance CX motor to last on mountain bike trails of any length. The Rail is the essential electric mountain bike rental for any rider. The RockShox suspension system and SRAM drivetrain provide comfort and reliability at every turn. The Turbo Levo Alloy rocks a "mullet" with a 29'' wheel in the front and 27.5'' wheel in the back, allowing for nimble handling without sacrificing traction and stability. The 500Wh battery will have you flying further down the trail, feeling the wind in your mullet.
Note: If you wish to rent more than one E-Mountain Bike you must add the second one after you press continue. On the second page of the booking process there will be an "add to booking" button in the top left corner. Click on that button to add the second bike.
Electric Bike Rental Pricing
| | | | |
| --- | --- | --- | --- |
| Per Hour | $20 | $25 | NA |
| 24 Hours | $75 | $85 | $105 |
| 2 Days | $140 | $160 | $170 |
| 3 Days | $180 | $200 | $245 |
| 4 Days | $215 | $235 | $295 |
| 5-7 Days | $245 | $275 | $345 |
| 2 Weeks | $325 | $355 | $495 |
| 3 Weeks | $375 | $405 | NA |
| 1 Month | $425 | $455 | NA |
| 2 Months | $625 | $675 | NA |
| 3 Months | $795 | $875 | NA |
Note: You'll be able to select which E-Bike you'd like to rent on the second page of the booking process
NEW - Rent a Garmin Edge 1030 with your Bike Rental
Explore Santa Barbara with Confidence
Only $20 for 1 day and $5/day for everyday thereafter
Loaded with Santa Barbara biking routes for all riding levels
Easy to see step by step navigation
Track and record a variety of riding data and metrics
Simple to use interface with large screen
Enjoy a bike ride that you know you'll love without getting lost!
To Reserve the Garmin Edge 1030 please select the item in checkout
Our electric bikes are Electra 8 speed beach cruisers and Specialized 9-speed commuter bikes!
Go green and explore the fun and exciting sights in beautiful sunny Santa Barbara with an Electric Bike Rental! If you'd like us to show you the sites we have electric bike tours of Santa Barbara available 7 days a week. This is by far the most fun way to see Santa Barbara! Ride the quintessential California beach cruiser all over the town with ease. If you only have a day or two to see Santa Barbara renting an electric bike is absolutely the best way to see it all!
Swing by our shop and choose the best fitting bike for you! Ebike rentals start at $20/hr or $75 for a 24-hour rental. We are located just 3 blocks from the waterfront bike path along the Pacific Ocean and one mile from State Street and Stearns Wharf. With an e-bike rental, you'll be right in downtown Santa Barbara from our shop in no time! We can deliver complimentary for any electric bike rental orders $200 or greater within the Santa Barbara area.
Call, email, or book above to reserve your electric bike rental. If you're in the area, come by our shop at 736 Carpinteria Street, Santa Barbara, CA, 93103.
What's Included
– Electric Bike
– Lock
– Helmet
– Cal Coast Adventures Water Bottles
FAQs
Hours and Getting Here?
We're open 9am to 5pm seven days a week. Our shop is at 736 Carpinteria Street, Santa Barbara, CA, 93103.
What kind of Electric Bikes Do You Offer?
We offer Electra Townie Go, Specialized Turbo Como 3.0, Specialized Turbo Levo, and Rad Power Rad Rover electric bikes. There are no better ebikes on the market for range, smooth pedal assist, and comfort.. The Rad Rover has the option of throttle power if pedal-assist is not an option for you.
Do I need to wear a helmet?
Helmets are provided complimentary with your electric bike rental. Helmets are required for riders under the age of 18.
How far can I go on the Electric Bike?
You can easily do 20 miles. Bike ranges vary widely based on bike route terrain, rider weight, pedal power, and level of assist being used.
How fast will the Electric bike go?
Our pedal assist Ebikes go up to 20 mph on flat land.
Can my child ride an Electric Bike?
Our electric bike rentals fit all riders 4'10" and taller. For riders under 4'10" we have a Radwagon that little ones can sit on the back of!
I'd like to rent an Electric Bike in Santa Barbara for a couple days, how do I charge it?
For anyone renting for more than 1 day we'll supply a standard charger that plugs into any outlet. You'll just need to plug the bike in overnight.